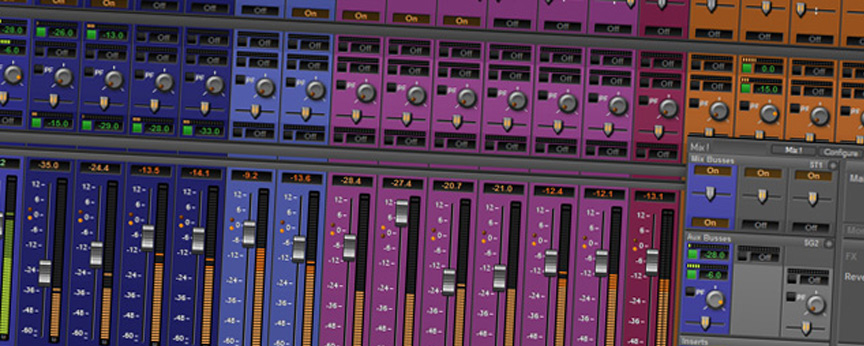 It seems that no matter how much power you present to a digital audio workstation user, they will work as hard as they can to find the upper limits of that power. We are so happy to be able to now completely raise the bar once again on what our users are able to achieve… and we are very interested to see if anyone now is able to find the new limit, or if there even is one!

C. Cellier, President, Merging Technologies
9.1 New Features
New CD /SACD / Digitial Download workflows
We have updated our album publishing and mastering workflows to take into account all the new features that this high-resolution world we live in needs.
Key Features:
Digital Download file creation for stereo AND multichannel masters
DSD and DXD album publishing for DXD & DSD 64/128/256
MD5 and SHA checksum generation
DST Decoding for creation of DSD download files from DST encoded ones.
SACD cutting master Import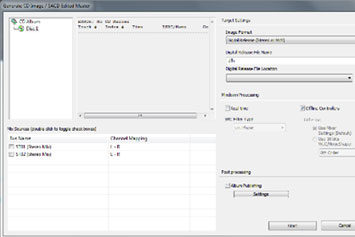 New Archival Workflows
Working with some of the industry's most prestigious archival facilities, including the Library of Congress in the USA, we have created an archival workflow flexible enough to fit almost any preservation and archival specification.
Full meta data editing and writing
Import and export xml meta data sets
Works for Render or Album Publishing output
VB Plugin integration for 32bit & 64bit support
Vincent Burel, French VS3/VST plugin developer, has finished off his 64bit plugin suite! We are proud to announce that the new VB VS3 plugins are now available to purchase for use in Pyramix or Ovation.
Updated Plugin Packs:
VB C10-Multiband Compressor (C10 - D10-Limiter / C10-DXD)
VB Compressor (Red-Blue Compressor & DeCompressor / MultiChannel Compressor)
VB EQ-Pro Pack (EQpro-G3/G4 EQnotch-G3/G4)
VB Limiter (C-Limiter)
VB Measure Pack (VU-Meter / Oscilooscope / Spectrum Analyzer)
VB Special Fx (Chorus / MultiTap)
VB Stereo Management (Stereoman / MonoSwitcher)
VB Striptool Series (Striptool V1* / V2 / V3)
VB Tone-X Pack (Tone-Param / Tone-Shelf / Tone-4)
9.0 New Features
64bit MassCore Engine
The issue with running something as insane as MassCore in a 32bit operating system was that there was simply never the room to take full advantage of what the audio engine was capable of . With 64bit, Pyramix's true real-time operation is now able to span not only hundreds of tracks, but also contain more edits, more automation, more plugins and span greater project lengths than ever before.
Key Features:
64bit OS operation
Hyperthreading support
Ultra Low Latency mode (1.33ms)
IRIS Networked Post System and VCube64bit
With the 64bit release of the VCube video engine alongside Pyramix 9, Post Pack users are set to be able to playback even more demanding codecs and video file types without having to move the VCube engine to a separate computer. Able to easily playback all major file formats, sequences and codecs, including H.264, DNxHD, AVC Intra, MXF, MOV, AAF, CMX EDL, FCP XML and many others, the VCube component of the PyraCube system has now had its bar raised as well. And, mixing all of that (no pun intended) with the 24" touch screen of the Tango2 control surface for mixing and automating makes the IRIS 64bit system unbeatable
HAPI-Small Format AES67/RAVENNA interface
Meet HAPI, the son of Horus. Born from the most flexible and sonically transparent audio interface and providing the same RAVENNA / AES67 connectivity as its father, HAPI is both the perfect primary interface for smaller systems as well as the ultimate accessory for a system using Horus where control room I/O is required. Able to carry the same AD8D/AD8DP and DA8/DA8P analog cards that fit in the Horus option slots and connect to any RAVENNA or AES67 network the HAPI provides a more cost effective solution than the Horus without having to make a single compromise in quality.
New Mixer
The main addition to the new mixer is the Signal Flow view of the metering. Now, with any strip, or range of strips selected, the user can instantly see where the signal is routed to by a slight colour change in the peak meters. Then, with a simple click, the user can collapse the view of the entire mixer so that it only shows those strips and busses being used for the part of the mix that has been selected. Additional updates include automation modes per strip, peak metering in the auxes and subgroup sends and much more visible strip colouring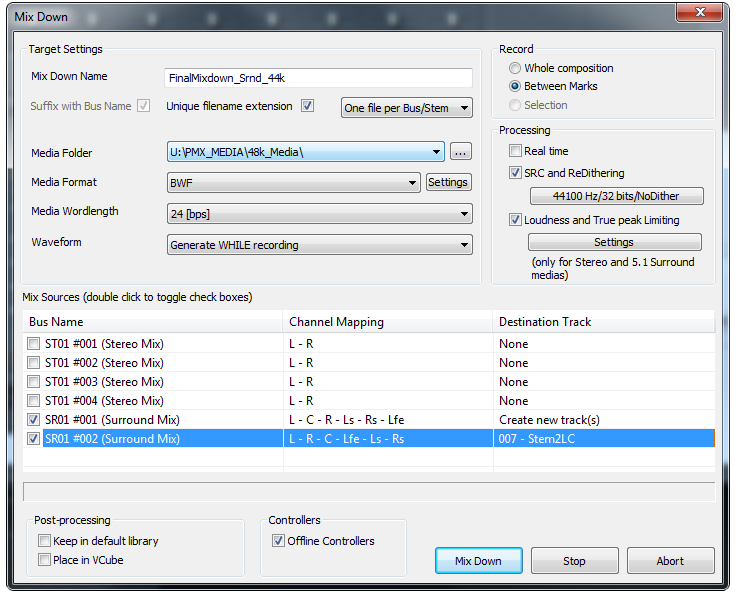 Mixdown: Loudness Logging and Fix Tools
Mixdown multiple busses at once, and create a separate interleaved file for each one! At the same time, users can now enable Final Check loudness checking and "fix" to make sure that your final broadcast masters will comply with loudness regulations in your territory… And of course Pyramix mixdown is still faster than realtime.
Additional New Features
Eucon 3 Support
Now with true 64bit operation, Merging has qualified its applcation for use with the newest Eucon3 installers for use with the System 6 and other EuCon control surfaces.

New VS3 plugins from Flux (Optional Add-ons)
Not only have all the current Flux plugins been adapted for Pyramix 64bit, they have also now included the rest of their range as well!
Pure Range Dynamics
Elixir Limiter
Epure
Bitter Sweet
IRCAM Range of processing plugins
Virtual Transport 2
Better, easier, more robust synchronization with all Merging software applications. Virtual Transport2 is now completely integrated into the Pyramix Chase Synchronizer. Whether locking to VCube on a different machine or within the same computer, VT2 provides rock-solid locked playback and editing features.