Whether it is line inputs from an old vintage synth, vocals from your latest star, or inserts to any bit of kit in your rack, the Networked Audio range provides the most awe inspiring analog to digital conversion ever presented to the music industry... and the output is just as good!
necting any member of the Networked Audio family to your studio speakers will bring you a completely new understanding of your mix, in both massively extended clarity and imaging regardless of the sample rate you are working at.
The Networked Audio range of audio interfaces give Cubase users the most sonically impressive analog signal path ever designed along with real-time audio networking and sync. This is truly the next step in computer music production.
What is The Networked Audio Family?
In very small boxes (2U and 1U respectively), the members of this family of products provide some of the most sonically pristine audio I/O, professional-grade synchronisation I/O and a flexible and intuitive routing matrix and digital format converter all wrapped together in an interface which can be accessed from any web-enabled device.
All of these boxes also come standard with RAVENNA / AES67 connectivity. In the most basic of terms, what this means for the end user is that once you plug a Horus or Hapi into your studio network, you can then pick up any input and output from the unit on any other DAW (Digital Audio Workstation) on that same network.
The best A to D conversion... Full stop.
After hundreds of tests made by some of the world's most "golden eared" engineers, we can say this with a strong sense of confidence, as the Networked Audio family's AD8D and AD8DP input cards keep coming out on top.
Sync over Ethernet (LTC/MTC/Video)
All the members of the Networked Audio family carry I/O for LTC (SMPTE), MTC and a video reference (Black & Burst), which are distributed using the RAVENNA/AES67 connection, this means that with Horus or Hapi, sync for your studio can run to any number of DAW's across the network with ease!
Portable & studio post applications

The Networked Audio range packs an incredible punch in the studio and on the road. Whether you need a small amount of I/O for "on the road" recording or a huge rack I/O module, connecting with combinations of Horus and Hapi couldn't be easier.
Multi-format ADDA and digital I/O
Not only is the Networked Audio range of interfaces perfect for recording and outputting analog signals, it is also an incredibly flexible format converter for MADI / AES / ADAT / SPDIF.
Horus (MADI & AES/EBU)
Hapi (AES / ADAT / SPDIF - MADI Optional)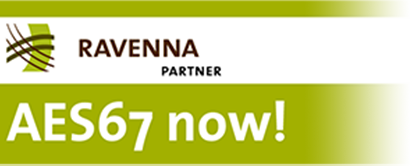 Some ideas on what RAVENNA and AES67 could mean for your setup:
Share audio Inputs from a single live room without any patching
Connect multiple Horus or Hapi units at various locations (multiple live rooms) and record to a single (or multiple) DAW's.
Run synchronisation (LTC/MTC) in a distributed fashion across your network to all the DAW's in your studio
Run real time streams between the DAW's in your studio without any patching.
Many many more ideas…
Choose your Digital Audio Workstation