The Networked Audio range of audio interfaces (Horus & Hapi to the uninitiated) can easily be considered some of the best audio interfaces in the world.
Using nothing more than a GbE port on your Mac, all of the members of the Networked Audio family provide the most astonishing Inputs for your location recording.
What is The Networked Audio Family?
In very small boxes (2U and 1U respectively), the members of this family of products provide some of the most sonically pristine audio I/O, professional-grade synchronisation I/O and a flexible and intuitive routing matrix and digital format converter all wrapped together in an interface which can be accessed from any web-enabled device.
All of these boxes also come standard with RAVENNA / AES67 connectivity. In the most basic of terms, what this means for the end user is that once you plug a Horus or Hapi into your studio network, you can then pick up any input and output from the unit on any other DAW (Digital Audio Workstation) on that same network.
The best A to D conversion... Full stop.
After hundreds of tests made by some of the world's most "golden eared" engineers, we can say this with a strong sense of confidence, as the Networked Audio family's AD8D and AD8DP input cards keep coming out on top.
Sync over Ethernet (LTC/MTC/Video)
All the members of the Networked Audio family carry I/O for LTC (SMPTE), MTC and a video reference (Black & Burst), which are distributed using the RAVENNA/AES67 connection, this means that with Horus or Hapi, sync for your studio can run to any number of DAW's across the network with ease!
Swiss-designed, Swiss-built
From the elegant brushed aluminium finish, to the hand soldering of every single analog component, the Swiss-eye for precision and quality exists throughout.
AC or DC Power supplies (Hapi)
When power supply becomes a concern for you, then using the DC power option for Hapi allows you to regulate how current arrives at your DAC. Location recording usually means battery packs, and Hapi is up for the job with an optional DC input.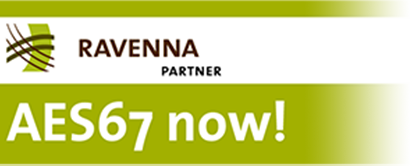 Some ideas on what RAVENNA and AES67 could mean for your setup:
Long cable runs of CAT5E to keep your rig away from the action while keeping your analog runs very short
Backup recording to a second computer using nothing more than an off the shelf switch
Place multiple units around a set and record them all to one machine using standard IT equipment to interconnect them all.
Choose your Digital Audio Workstation