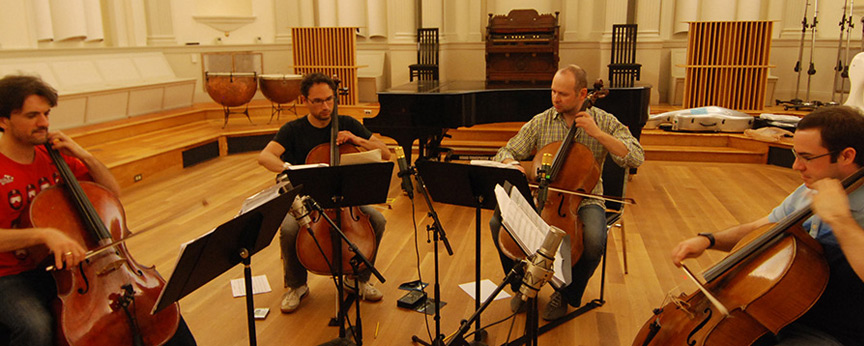 Horus Plays Nicely With Pro Tools
Boston's Futura Productions finds the combination a revelation
Puidoux, June 2014: The spectacular Futura Productions recording studio in the Roslindale neighbourhood of Boston plays host to a huge variety of sessions. This former Masonic Hall with its grand appearance is used for recording music as varied as classical, pop, rock, jazz, folk, choral, world music, film and video game scoring and even music from the Ottoman Empire! Producer-engineer John Weston moved his company to the hall in 2003, set up his massive Pro Tools rig along with all his other studio gear, and has become tremendously busy, averaging between 300-400 recording sessions per year. With a 38' x 60' x 22' main recording room, iso rooms, variable acoustics, a Steinway 9' concert grand piano, and a large control room with video and surround mixing, the studio is able to handle many different kinds of projects. Looking to update his studio in early 2014, John upgraded his Pro Tools HD system to HDX and purchased Merging's Horus Networked Audio converter. The choice of this combination justifies an explanation.
Local Boston resident and Grammy® award winner producer-engineer Jesse Lewis came to Futura in 2013 to record Yo Yo Ma's Silk Road Ensemble and brought in his Pyramix MassCore equipment with a 40 input Horus. Before the session started, the first thing that was apparent to John was how easily Pro Tools could be connected to the Horus via MADI to run as a back-up recorder. When recording commenced, the sonic difference was immediately noticeable to engineers and musicians alike. "A veil had been lifted" and Horus with AD8DP and DA8P converters had been added to the Futura upgrade shopping list. John says; "Once I heard the preamps and converters, I knew the Horus had to be a central part of the new system". Delivery of the 32in/16 out Horus coincided with the release of Merging's CoreAudio driver which allows extremely easy integration with a Mac laptop. "This meant that not only could I use the Horus in my main system, but it would also allow me to have a perfect remote recording solution simply by using the Horus, a MacBook Pro running Pro Tools, and a CAT6 cable".
The debut project for Futura's Horus was a string and brass scoring session for "Kikaider Reboot", a Japanese tokusatsu superhero action movie. John remarks that; "Everyone, from the composer to the conductor, film director and myself was immediately impressed with the beautiful sound and clarity that was coming from the Horus". Since then, the Horus has been used on almost all of Futura's projects, including a jazz chamber recording "absolutely amazing on percussion and piano", and a intimate recording of Ottoman Mevlevi Sufi music featuring voice, çeng (Turkish harp) and cura (a long-necked lute). "Ottoman classical music of this type needs a very intimate feel and the results stunned the musicians" said John. "Whether I'm recording at 44.1K or 96K or 192K, the sound of the Horus is wonderful".
Considering the last six months with Horus, John Weston had this to say; "Horus immediately impressed me with the build quality and ease of integration with my DAW. The routing, the control, plus the on-board I/O just make a stunning package which is equally at home in my studio or on the road. It's a perfect partner for my Pro Tools system, but it all wouldn't matter if it didn't sound right. No question, this is the very best front-end I've used and it will be a part of many, many projects to come!"
Download related file(s):