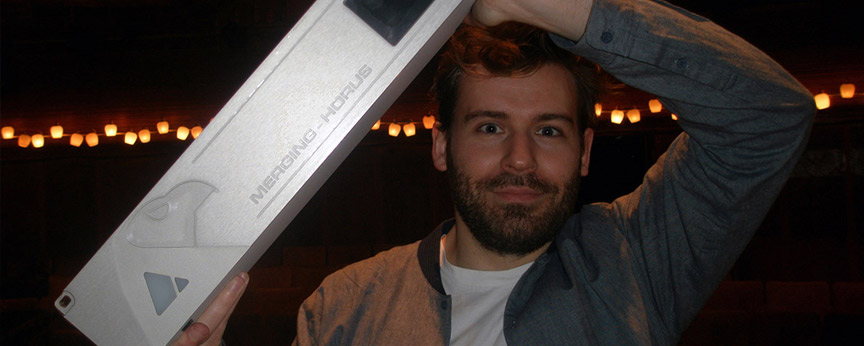 Golden Start For AES Student Prizewinner
New York Recording Prize winner gets Horus and an extra surprise
Puidoux, Switzerland. January 2016: Merging has supported the AES Student Recording Prizes for some years and typically awards the winner with Pyramix Native software. The recent 139th New York Convention's winner of the gold prize in Category 2 (Traditional Studio Recording) for his recording of Steve Reich's 'Music for 18 Musicians', was Daniel Davidsen. The only problem for Merging was he had already been using Pyramix for over a year, so rather than having it appear on a well-known auction site, Merging suggested allowing an equivalent credit against another Merging product. Wisely, Daniel chose to purchase a Horus Networked Audio Interface.
As if winning this prestigious prize was not enough, he also finds himself as a member of the Soundmirror team that produced Joan Tower's Album 'Stroke', which is GRAMMY® nominated for "Best Classical Contemporary Composition". The recording and his resulting mix was created with Pyramix and Horus, as are the majority of the 2016 classical nominations. So how come a Danish student is achieving so much in the USA?
Daniel has a bachelor's degree in musicology from the University of Copenhagen and a bachelor's degree in music and sound recording (Tonmeister) from the Royal Danish Academy of Music, where he is currently pursuing his master studies. Additionally, he has completed one year of studies at the Cleveland Institute of Music. The work experiences from Denmark and the U.S. has led to his work being represented on American record labels.
Merging offers all students a generous discount and with the experience of using Pyramix, Horus and Hapi with Soundmirror, it obviously made sense to invest in a 24 input Horus. Daniel explains his reasoning; "This state of the art equipment meets the highest professional standards and I have been very impressed with Horus during my studies and during my work at Soundmirror in Boston. Horus is a particularly future-proof investment and it offers an ideal starting point for my professional equipment and enables me to record in the DXD audio format (Digital eXtreme Definition) or DSD, which is really the highest possible quality for sound. The ultra-high performance and resolution is an important inspiration and serves to facilitate the post production and the quality of the resulting product".
Not surprisingly, Daniel has a significant background in music. He started playing piano and trumpet at an early age and has had the experience of playing in brass band, big band and military marching band ensembles. In the years 2003-2007, he participated in the European Brass Band Championships. This led inevitably to an interest in audio; "My passion for audio started quite unusually. I did arrangements for my Brass Quintet at the time and used the notation program Finale, but I didn't like the horrible MIDI sounds coming out of it. That triggered my interest in DAW's and I ended up purchasing Pro Tools. From there I slowly began recording music. After my high school graduation, I realized that a career as a musician was not for me. I started working with Pro Tools and Logic and studying musicology at the University of Copenhagen. When I got my BA in 2011, my career dream was in the field of audio. Since then, my main platform has changed to Pyramix."
"I am obsessed with quality and have a passion to provide everybody with the best experience possible. Among my key competencies are pitch processing and music editing, which essentially involves joining takes and patches together. Pyramix has been a particularly useful and effective tool for this purpose. When properly made with the best modern specialized equipment and a musical spirit, it is impossible to detect the editing. Editing alters the original performance and brings the engineer into the creative process. These tasks require considerable amounts of training and my professional skills include score reading, strong aural abilities and attention to cooperation with musicians, producers and composers. It is my dream to combine the roles of producer and engineer."
"The Royal Academy of Music offers attractive opportunities for students to be involved with recording and music production, although the access to equipment and studios is quite naturally regulated by a booking system. Using my own equipment enables me not only to react to customers' needs at short notice, but also to be much freer to work when and where I can be most productive. This is a big step forward in my career path towards becoming an independent sound engineer and producer."
The piece that won the AES prize also has an interesting story in that 'Music for 18 Musicians' is one of Steve Reich's greatest and most difficult-to-play compositions, which was performed by an international team of handpicked professional musicians at the Roskilde Festival in 2013. The ensemble's name is EKKOZONE, formed in 2013 by the Danish percussionist Mathias Reumert. The recordings could only be made during the rehearsals and were intended for documentation purposes. The recorded source material was rather limited and only 1 ½ takes were usable at the end of the final recording day. It was only possible to obtain a satisfying musical result because of the highly repetitive musical structure. Many bars were replaced with the few useful figures that were available. It was all about making it as organic and alive as possible. This represented about 80 hours of editing for one hour of final music!
It is not hard to imagine that Daniel Davidsen will become a highly successful independent engineer/producer and with such a great start to his career, he has many credits to present to future clients. When asked where he expects to be in 10 years time, Daniel responds; "It is my ambition to combine job types (production, recording, editing, mixing). It is also my ambition for the future to participate in international projects and to extend my work into non-classical categories that have creative opportunities. I would expect that Merging components will still be an essential part of my equipment list because the company has led the way for so many years".
The Grammy Awards ceremony takes place on 15thFebruary 2016 and Merging wishes Daniel and Soundmirror the best of luck on the night. Whoever wins, it will be a vintage night for the Merging team with the majority of classical nominations captured by their clients.
Download related file(s):